All-season tires come in sizes to fit everything from small cars to light-duty SUVs and pickups. They are for drivers who want year-round traction, long treadwear, and a comfortable ride. But all-season tires typically lack the precise handling and grip of performance tires.
Performance all-season tires provide year-round grip tuned for enthusiastic driving. They have a higher speed rating than standard all-season tires, and they generally provide better handling and braking than regular all-seasons. Some performance all-season tires, denoted by a snowflake mountain symbol on the sidewall, have cold-weather traction that rivals dedicated winter/snow tires, yet they can be used on the car year-round. These all-weather tires do not need to be changed seasonally.


Summer ultra-high-performance tires are commonly fitted to upscale sedans or sporty vehicles. All-season UHP tires are designed to provide good handling and responsive steering in wet and dry conditions, but treadwear and ride comfort are common compromises. Summer UHP tires are not intended for cold weather and won't grip in snowy or icy conditions. All-season versions may compromise some dry and wet grip to gain winter traction.


All-weather tires are designed to provide good performance in a variety of weather conditions, including dry, wet, and snowy conditions. They have a unique tread pattern and compound that allows them to provide good grip and handling in a wide range of temperatures and road conditions. One of the primary benefits of all-weather tires is their versatility. With all-weather tires, you no longer must worry about changing your tires twice a year or storing a set of tires during the off-season. You can drive with confidence in any weather condition, knowing that your tires are designed to perform in any situation.
Winter/snow tires offer superior grip to go, stop, and corner in cold, inclement weather. But they typically have faster treadwear than all-season tires because the tread is specifically designed to bite into snow and ice, and the rubber is formulated to stay pliable at freezing temperatures. Also, winter/snow tires generally take longer to stop than all-season tires on cleared roads. We test winter/snow tires suited to cars, performance winter/snow tires for sports cars, and truck winter/snow tires for pickups and SUVs.


How do you read your tire size?
Learn how to read your tire size
When you search for tires you typically match the width, aspect ratio and wheel diameter (195/65R15). Your tires have a series of letters and numbers that are used to tell you key size information. This diagram shows a tire that is 195mm wide, has an aspect ratio of 65 and a wheel diamter of 15 inches, a load index of 89 and a speed rating (H).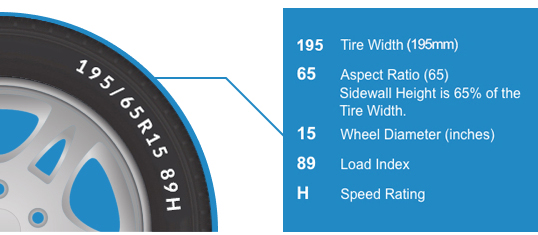 Certified to Serve You Best